You can go ahead and remove the term "trend" when talking about custom painted football cleats in the NFL. For Super Bowl 52 at least 14 players were wearing a pair of cleats painted by a sneaker customizer. Painted cleats made specifically for the biggest game of the players' careers were split with 9 for the Philadelphia Eagles and 5 for the New England Patriots.
For Super Bowl 51 we counted only 5 pairs. As the My Cause, My Cleats initiative hopefully continues next season we can only expect more and more players to be open to wearing custom painted football cleats week in and week out. Especially if they are lucky enough to make it to the biggest game of the season.
Nick Foles wore nearly all white Under Armour cleats with a subtle change in the logos painted Eagles green by @kreativecustomkicks
The Eagle's Rodney Mcleod wore a pair as a tribute to family members that have passed. Painted by @solesbysir
Ronald Darby broke out a pair of Under Armour cleats from earlier in the season featuring Teenage Mutant Ninja Turtles theme painted by @jakemakesart
The Eagle's Jalen Mills sported the most flashy carrying motivation from "Big Rings" by Drake and Future. The duo's lyrics and title, "What A Time, To Be Alive" graced the sides and the toes were covered in diamonds hand painted by @sierato.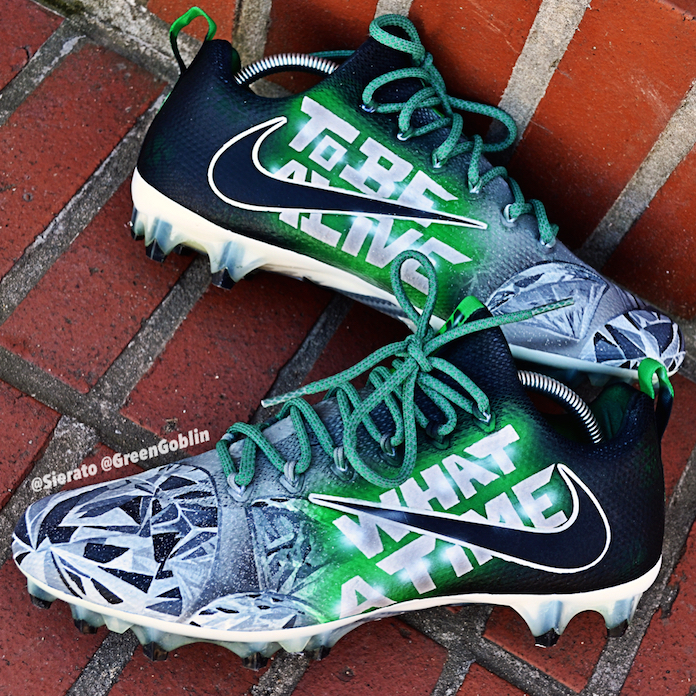 Corey Graham kept his theme to the point with the Eagles logo and Super Bowl LII painted by @Greindhouse of @signaturekickz
On the final hail mary throw by Tom Brady, Eagle's defenders Ronald Darby (left), Rodney Mcleod (middle), Corey Graham (24), Jalen Mills (2nd from the right) can all be seen just about to shut the pass down in their custom painted football cleats.
Kenjon Barner stuck to color scheme requirements and a few personal details on these Nike cleats painted by @_sr_customs_
The Under Armour cleats for Malcolm Jenkins stuck with the Eagle's wings and LII Super Bowl logos painted by
@illustrative_crea8ions
The Eagle's Jaylen Watkins let his cleats remind him where he came from to get to the Super Bowl on these Nike cleats painted by @illustrative_crea8ions
LeGarrette Blount rocked a detailed pair of Hulk comic cleats last season as he played with the Patriots in the Super Bowl LI. A more subtle pair featuring his team color, number 29 and Eagle's logo started his Super Bowl cleat streak. Painted by @marvinbaroota
Devin McCourty of the Patriots played to the Air More Uptempo look on his cleats with PATRIOTS painted across the sides a la AIR for pregame painted by
@716ghost
of
@theheyymanstudios
James Harrison took full advantage of his Super Bowl appearance with a patriotic pair of Under Armour cleats painted by
@KreativeCustomKicks
Kyle Van Noy kept it close to last year's Super Bowl sticking with Nike cleats painted by
@DejesusCustomFootwear
in a Patriots theme.
Clean and simple went Brandon King with a silver cleat detailed with Patriots logos painted by @marvinbaroota
Jordan VII cleats made their mark with a Patriots color scheme featuring subtle details worn by Elandon Roberts and painted by @marvinbaroota